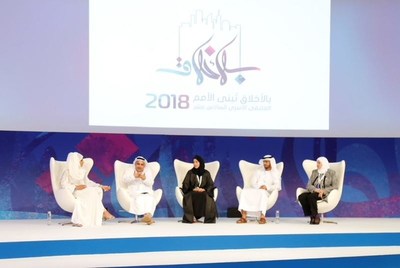 الشارقة: 13 -2- 2018م.
تحت رعاية صاحب السمو الشيخ الدكتور سلطان بن محمد القاسمي عضو المجلس الأعلى حاكم الشارقة، والسيدة قرينته، سمو الشيخة جواهر بنت محمد القاسمي، رئيس...
LONDON, February 14, 2018/PRNewswire/ –Al Rayan Bank, the UK's largest Islamic bank* and one of the fastest growing banks in the country**, has become the first bank in the...
AUSTIN, Texas, Feb. 14, 2018 /PRNewswire/ — Five years ago, Ryan Wiseman was in the prime of his life.
"I was thinking I was on top of the world," Wiseman said. "I was keeping myself in shape. I was taking …...
بناء إنترنت عالمي للعملاء يتسم بسهولة الاستخدام والتخصيص والأمان
سياتل، واشنطن، 13 فبراير 2018 – قدمت شركة DigitalTown, Inc. (المسجلة في سوق التداول تحت الرمز DGTW)، والرائدة في...
دبي، الإمارات العربية المتحدة، 14 فبراير 2018/PRNewswire/ —
قد يواجه ثلثا الرؤساء التنفيذيين للبنوك (71%) في الشرق الأوسط مخاطر فقدان وظائفهم بسبب عدم إدارتهم لمخاطر الأمن السيبراني بفاعلية.
تظهر...